THOR Complete Lower Receiver
This item is ITAR controlled and will require a US State Department export license be shipped out of the United States. Please contact a THOR Sales Representative for Class III or Export information.
Description
Fully compliant mil-spec construction .154 small pin size Hard Anodized, Forged 7075 T6 Aluminum Complete Lower Receiver.
Description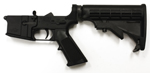 For More Information
Name
Title
123.456.7890
Name@email.com
Name
Title
123.456.7890
Name@email.com